STAMP DEMON //// STAMP DEMON Tales //// Comments, groans, grumbles and nonsense //// Make Me laugh //// Site Index
The 3.00am Toe Biter
---
The 3.00am toe biter - Are you bored in your relationship? Fancy trying new things? Have you ever thought of Toe Biting? Well this page might give you a few ideas for the early hours of the morning!
I was dating my girlfriend, who is now my wife. We had not been seeing eachother for long, infact it was the first time I had stayed over at her house. We were getting on really well and we knew even at that early stage, that we were going to be together for a long time. This was true as we'll have been together ten years in October and have been married for eight of those years! However, we hadn't made our wedding plans at that point!
After a fantastic night we decided to turn in. We had a busy schedule planned for the next day, including a trip to meet the parents and Nan. However, little did I know I was in for such an eventful early morning.
Toe biting had been made famous by the likes of Fergie and Madonna. I hadn't tried it, although I was intrigued and wondered what the attraction was. However, I was game for trying something new, so my girlfriend knew that I was prepared to experiment.
In the early hours of Saturday, I got my first and last experience of Toe Biting. I have a habit of leaving my toes out of the douvet and this particular morning was no exception. At 3.00am I got my toe well and truly bitten. I felt pains on either side of my big toe, which abruptly ended my slumber. Once awake, my toe was well and truly bitten.
Was this pleasurable? No. Erotic? No. Worth the wait? No. Would I do it again? No. Was it my girlfriend? No. Was it her sister? No.
Below the mystery of the 3.00am Toe Biter is revealed: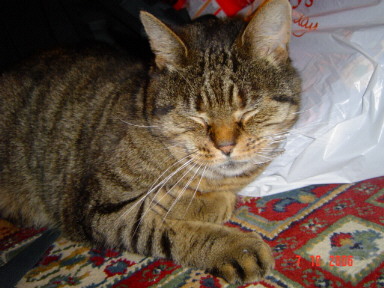 Let me introduce you to Gus the cat, our 13 year old Tabby. Although, at the time he was only about three! Infact, I suppose my toes were fair game. He was probably showing me who was boss, as you can't boss a cat! We're the best of pals now and I wouldn't be without him.
There will be more Gus tales later, but I hope you've enjoyed this page! Remember, you can bookmark this page or any other at this site. We constantly add new content so have a browse around, all I ask is that if you have enjoyed this page tell a friend.
---