STAMP DEMON //// Household Names //// Shopping Centre //// London Shopping Experience - Online //// Toy Shops //// Site Index

Hamleys
---
We are delighted to feature Hamleys at STAMP DEMON. What a fantastic store, toys for children young and old. We can't wait to visit again ourselves! Never mind we can always have a look round online!
Hamleys:
"When William Hamley first opened a toy shop in London, Westminster Bridge had just opened to traffic - horses and carts. Even gas lights would not illuminate the city's streets for another half a century. The year was 1760, but William Hamley, a Cornishman from Bodmin, was not put off.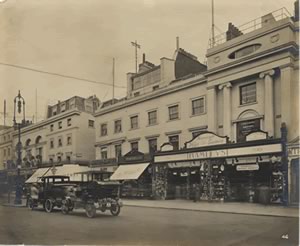 He filled his cramped Holborn shop with every toy he could find; rag dolls and tin soldiers, hoops and wooden horses, because he wanted the finest toy shop in the world. He even called it the 'Noah's Ark'.
So when Henry Charles Harrod opened a small grocer's in Knightsbridge in 1849, Hamleys was already a vastly successful 'Joy Emporium'. To celebrate, in 1881, William Hamley's grandsons opened a new branch in Regent Street, not far from Piccadilly Circus. Hamleys was here 11 years before Eros.
Hamleys became as much a London attraction as Buckingham Palace or The British Museum. Nowhere was the magic of childhood so precisely captured. And as toys changed, so did Hamleys; in 1981 it moved to 188-196 Regent Street, still the biggest toy shop in the world.
In 1994 Hamleys of London Ltd was listed on the London Stock Exchange and became Hamleys plc. It remained a public company for 9 years until 2003 when, with the support of Baugur, the Iceland based retail group, Hamleys management team took the company private.
Over the years Hamleys has developed an international reputation for choice, quality and innovation. The magical flagship store on Regent Street has over 7 floors packed full of toys and games, with live and interactive demonstrations.
Today, Hamleys is an internationally recognised toy retailer with ambitious plans to further grow the brand. The Hamleys Own collection, a branded range of toys and games will continue the tradition of the finest toys in the world. With plans for international stores and the launch of an exciting, new user friendly website will enable Hamleys magic to be delivered throughout the world."
If you have been tempted by this, here's the link:

http://www.hamleys.com affiliate program is with Affiliate Window
---