STAMP DEMON Website //// Fishing //// My Fishing Tackle //// Site Index
FAPS axiom 4000
---
This reel has changed the way I feel about fishing tackle and defeated the old adage, you get what you pay for. I am happy to say it breaks all of the rules and then some!
FAPS are an Italian company and you may have heard of them if you fish on a match circuit. They are well known abroad, most famously for their whips and poles. However, you may have seen various pieces of tackle around the web. I recently saw an umbrella of theirs at Argos!.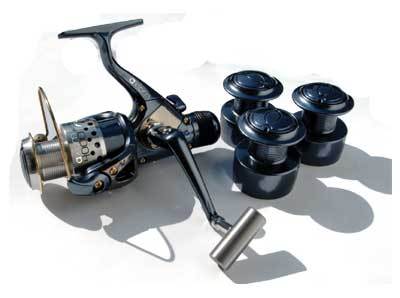 "FAPS. A name that for more than twenty years has been synonymous throughout the world with qualitative perfection in the fishing tackle sector. A company that focuses on the highest levels of technology so that its products meet the needs ofeven the most exacting anglers, perfect instruments that are adaptable to any type of prey or fishing environment. The success achieved over the years by FAPS is based on the company's attention to research, the use of advanced materials and cutting-edge technology, all blended with the determination of a winning team that is never content to rest on the laurels of its many successes, but strives continuously to anticipate the future."
So, what do you get for your money?
- 9+1 Ball Bearings
- One way clutch
- Rear drag
- Folding handle with stainless steel grip
- Left / right wind
- Titanium line roller
- Line clip
- A gear ratio of 6.2:1
- Supplied with a polished aluminium spool
- Plus 3 extra deep graphite spare spools
How much would you pay for a reel like this? Well, if it were the big hitters from Japan, you could set fire to pile of tenners. Not with FAPS - the reel only retails at £29.99! It's true, they bang these babies out for less than thirty quid.
However, I will now share a closely guarded secret with you. Visit ebay, do a search for FAPS axiom 4000 make sure the seller is House Of Hutchy and you'll bag one for less than retail! (We are not on commission!!)
Make sure you are quick though, as I have a pair of these reels myself and have been so impressed, I might have to buy another two!
If you use the link below, you will see what else FAPS have to offer:
CLICK HERE TO VISIT THE FAPS WEBSITE!
---