STAMP DEMON //// Household Names //// Online Holiday Shop //// Site Index

CRESTA Holidays
---
Welcome to the CRESTA Holidays page at STAMP DEMON. Please read their text below.
CRESTA Holidays:
"crestaholidays.co.uk
What do you want from your holiday? Somewhere to enjoy the local cuisine and culture, explore little shops hidden discretely on narrow, cobbled streets? Or to find that one place yet to be discovered by anyone else? The truth is, the type of holiday experience you want depends on the type of person you are. And that's where crestaholidays.co.uk comes in...
The choice is yours
Within our site you can enjoy hundreds of city break destinations, plus Tuscan countryside hotels and French chateaux. crestaholidays.co.uk also offers a wide selection of individual Irish cottages, worldwide holidays, golfing breaks and much much more. You can choose to fly or take the Eurostar train, or, if you prefer to make your own travel arrangements, all our properties can be booked on an accommodation-only basis.
Create your own crestaholidays.co.uk holiday
At crestaholidays.co.uk there's no such thing as an off-the shelf holiday. In fact, until you tell us where and when you want to go, there isn't a holiday at all. Every holiday booked by us is based on the needs and desires of our customers giving you the freedom and flexibility to tailor your own holiday. Use our online search - tell us exactly where you want to go, where you'd like to travel from, when, how and for how long and together we'll plan the perfect holiday.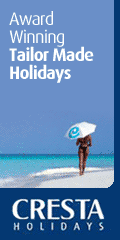 Extend your stay - absolutely FREE*
We want you to get as much as possible out of your holiday, which is why we offer an unbeatable selection of FREE NIGHTS at many of our hotels.
Buy online securely
With real-time pricing and availability on thousands of holidays, you can browse and book your own tailor-made holiday in minutes. And be sure that your online payment is completely safe.
24 hour Reassurance
crestaholidays offer all customers a 24 hour emergency service while abroad. Should you have any problems we are just a phone call away.
Don't just take our word for it
For the last 13 years Cresta have been voted Top Short Break Operator by UK travel agents, for our commitment to service and consistently high standards. And crestaholidays.co.uk not only features holidays from Cresta but also those of Bridge, Swiss Travel Service, Paris Travel Service, Belgian Travel Service, Amsterdam Travel Service and Tradewinds.
Wherever you want to be in the world... crestaholidays.co.uk can take you there."
If you have been tempted by this, here's the link:
THE LINK WAS HERE TO GO TO THE PLACE!
http://www.crestaholidays.co.uk affiliate program was with Affiliate Future. The program has now finished. Until it returns, for alternatives please visit our Holiday Shop.
---