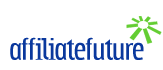 STAMP DEMON //// Affiliate Marketing //// Affiliate Marketing Company List //// Site Index
Affiliate Future
---
STAMP DEMON'S first Affiliate Marketing Company - Affiliate Future.
We highly recommend Affiliate Future as they were, quite simply, the easiest to join!
However, there is more to it than that. Their site is simple and easy to use and joining merchants could not be easier. Read their information and then visit Affiliate Future's site to see what they have to offer...
"If you are responsible for a website and want to increase its earning potential, join Affiliate Future's network to earn more revenue from your visitors. It works by allowing Merchants to advertise on your site, and AffiliateFuture pays you monthly when these adverts generate visits, leads or sales.
It's free to become an affiliate and you can start carrying advertising today.
Benefits Summary:
A broad range of advertisers.
Earn more revenue from your website.
Guaranteed monthly commission payment.
Real-time tracking and reporting.
There are no set-up fees for becoming an affiliate with AffiliateFuture. It's simple to get started, enter your details, subscribe to the programmes offered by Merchants, add them to your site and start earning today. Sign up to be an affiliate now - Free!"
---