STAMP DEMON //// Fishing //// Sport and Fitness //// Site Index

Dave's Peg

Angling Centre
"Where Fishing is More Than Just A Sport"
---
Welcome to Dave's Peg Angling Centre web page at STAMP DEMON. Dave is Sleaford born and bred and has been trading in Sleaford for the last 16 years.
Dave started fishing at the age of three, sat on his Grandad's knee, on a wicker fishing basket and he's been fishing ever since! Both Dave's grandfather and father were fisherman and Dave has continued the family tradition.
However, it was Dave who started the fishing tackle shop - Dave's Peg Agling Centre in 1991. While the business is solely Dave's, it has been become almost like a family concern, with customers old and new receiving friendly advice. Many of the regulars are friends who Dave fishes with in matches throughout the Sleaford area.
Dave's Peg Angling centre would be best described as a specialist Match Carp tackle shop, but the shop caters for all types of fishing and helpful advice is given to anglers of any description.
There's a huge range of products to choose from, by all the major suppliers including Prestons, Maver, Drennan, Shimano, Diawa, Browning and more.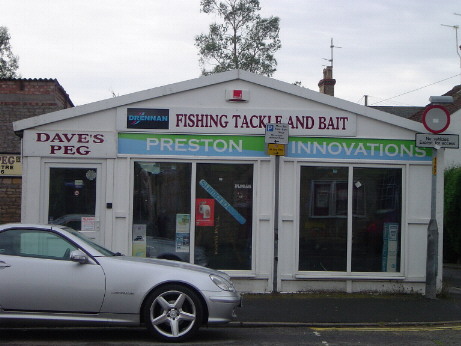 Angling Centre Opening Hours:
Monday 8.30 - 5.30

Tuesday 8.30 - 5.30
Wednesday 8.30 - 5.30
Thursday 8.30 - 5.30
Friday 8.30 - 5.30

Saturday 8.30 - 5.00
Sunday CLOSED
All major credit cards accepted
Dave's Peg Angling Centre, Est 1991
37 Westgate
Sleaford
01529 415896
"Quality Tackle With a REEL Friendly Service"

---