STAMP DEMON //// Shopping Centre //// Holiday Shop //// Sports and Fitness //// Parent and Child //// Site Index
Our Carry On Camping
---
Our Carry On Camping, for all of those fans of Sid James and Barbara Windsor this is not about the film. It is a collection of stories by virgin campers, not virgin as in Mr Branson. We decided it would be a good idea to put our experiences online, so that you can learn from our mistakes - while having a good laugh at the same time!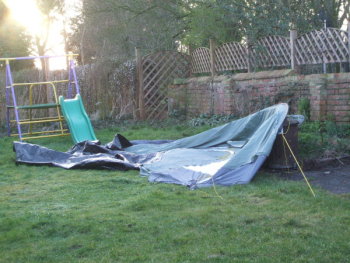 We now have to take our holidays during school breaks and are increasing frustrated by the family holiday tax, so we decided to give camping a go. This could be a big mistake or we could have a great time - you never know until you give things a try!
I have never done any camping, however, I have spent a few nights under canvas. I'm a fisherman and have done a few night sessions under the umbrella shelter. Believe you me, having a tent to sleep in is a positive luxury, in comaparison.
Take a look below at a few of our misadventures:
Buying the first tent
Erecting our tent in the garden
First night in the tent!
Those pegs were rubbish after all!
That's the tent ripped then!
I think we need thicker sleeping bags
Is the air in the airbed really cold?
---