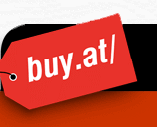 STAMP DEMON //// Affiliate Marketing //// Affiliate Marketing Company List //// Site Index
buy.at
---
STAMP DEMON'S second Affiliate Marketing Company - Buy.At
We had one or two problems when we attempted to join online. However, a quick phonecall and away we went!
It is important to note that with buy.at, all the programs we have seen require merchant approval before your site is accepted and you sometimes have to wait for a while. If you email buy.at about a delay they normally sort the problem out asap.
"buy.at is a leading UK online marketing network serving a wide range of brand name clients.
Its affiliate network offers innovative tracking solutions including online and offline tracking coupled with excellent relationship management.
As a fundraising solutions provider it offers a unique network of several thousand fundraising webshops. These are used by schools, sports clubs, charities and community groups.
Perfiliate Technologies was incorporated in 1999 and received its venture capital funding in December of the year.
The Company has grown since then, actively promoting its affiliate solution - buy.at - from mid-2002 onwards. We waited until merchants sufficiently understood affiliate marketing in order that some of our innovations, for instance responsibility towards the brand and being an 'open' network, were appreciated.
We have grown rapidly since 2002, posting 400% growth year on year for both our last financial years.
Our client retention is excellent quite simply because our service is excellent.
We are proud of our Newcastle roots; they contribute to our ability to retain staff and deliver a quality service. It further contributes to our strength and continuing growth going forward.
Leading provider of affiliate marketing At Perfiliate Technologies we pride ourselves on the fact that we deliver the UK's most mature affiliate solution. Our client base is strong with names you'll have heard of that remain fierce advocates of our service.
These clients are more aware than anyone of our business philosophies, which mean that we have regularly been first to implement new technologies, to make their experience better. These same philosophies have always meant that the quality of customer service is second to none."
THE LINK WAS HERE TO GO TOP THE PLACE!
---